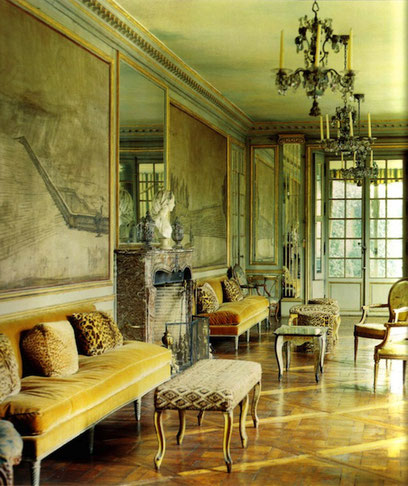 こんにちは。ムロデザインズスタッフのRyokoです。
先週3月8日は国際女性デーでしたね。
1904年のこの日に参政権を要求して集まった女性たちによりNYで行なわれた大規模なデモに端を発し、
現在も女性の主体性や自由を祝したイベントが世界各地で開催されています。
自立した女性の社会的活躍がさらに進む昨今。
女性の会社経営者や女性役員の存在はそこまで珍しいことではなくなってきましたが、
参政権すらなかった約100年前はどうでしょう。
女性が自らの意思で仕事をし社会的地位を得ることは本当に難しいことだったと思います。
今回はそんな激動の時代の中で、
女性インテリアデザイナーの先駆者として活躍した女性をご紹介します。
Hello. My name is Ryoko from an interior design studio in San Diego. 
Thank you for stopping by Muro Designs' blog today.
We had an International Women's Day on March 8th, last week. 
This is a day to celebrate a women's independence and to support activities led by women,
originally stemmed from a big demonstration by a group of women calling for the right to vote in NY, on this day in 1904.
Nowadays, we see more and more women go out for work,
and it has become less unusual for women to achieve social status.
However, what about 100 years ago where women didn't even have the right to vote?
It must have been quite challenging for them to make a living through a job they want.
On today's theme, we will shine a light on a woman who brazed a trail
in the then men-dominated interior design industry in the early 20th century.
彼女の名前はエルシー・ド・ウォルフ(Elsie de Wolfe 1865-1950)。
NYで誕生後、幼少のころにスコットランドに移住し、NYとスコットランドで私的教育を受けて育ちました。
スコットランドに暮らす母方の親戚の縁で、1883年にはヴィクトリア女王の宮廷に招かれ、ロンドンの社交界にも出入りするなど、華やかな一族だったようです。瑞々しく気品に溢れた様子がこの肖像写真からも伺えますね。
Her name is Elsie de Wolfe (1865-1950).
Born in NY, and privately educated both in NY and Scotland where she moved to with her family when she was young.
It is quite marvelous that her family, her father is a doctor, had rubbed elbows with upper-class people of the day, and once was invited to the Queen Victoria's Court. Elsie also started getting into the London Society in her young age.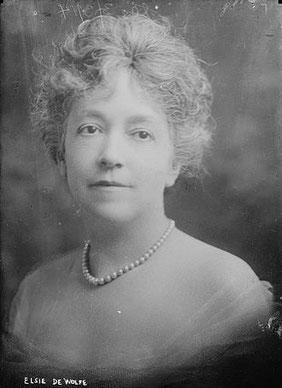 その後、一家は1884年にNYに再移住。
NYに戻ったエルシーはやがてアマチュア舞台演劇の熱烈な支持者になります。
当時、舞台演劇の公演は資金集めの慈善活動として人気の形態だったそうです。
しかし、1890年に医者であった父が死去。
家庭が貧窮したことに伴い、エルシーも生活費を稼ぐために働き口を探さなければならなくなりました。
そんな苦境の折に彼女の救世主となったのが、エリザベス・マーバリー(Elisabeth Marburry)。
当時、舞台演劇のマネージャーや著作権代理人などを務めていたエルシーより10才ほど年長の女性で、
エルシーに女優としての才能を見出し、舞台女優としての成功を後押しした人物です。
Afterwards, the family moved back to NY.
Soon after that, Elsie found her passion to become a devotee to amateur theatricals, which is a popular philanthropic movement at that time, and she enjoyed her commitment to support theatrical performances.
However, everything changed due to the death of her father, causing a financial problem in the family.
Elsie realized that she had to find a job to earn money.
Fortunately, she could start her career as an actress in theater with the advise of her senior friend, Elisabeth Marbury.
She was operating a theatrical manager back then, and was a clear-sighted person having a wide range of connection of people.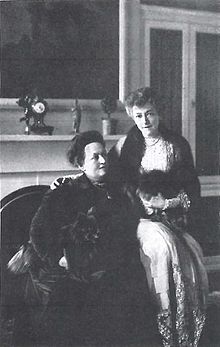 その後、公私にわたり約40年以上も続く強い友情を築き上げた二人。
エルシーがどんなきっかけでインテリアデザイナーへ転身し、名声を得るようになったのか。
続きは後編でご紹介します!
Their bond friendship continued for more than 40 years since then,
and Elsie's life cannot be told without the existence of her dear friend.
How would Elsie's career turn to be an interior designer and gain an international fame throughout her life?
We will continue in the next blog!
written by Ryoko
(reference articles)
 https://www.britannica.com/biography/Elsie-de-Wolfe
https://www.1stdibs.com/blogs/the-study/elsie-de-wolfe/
---